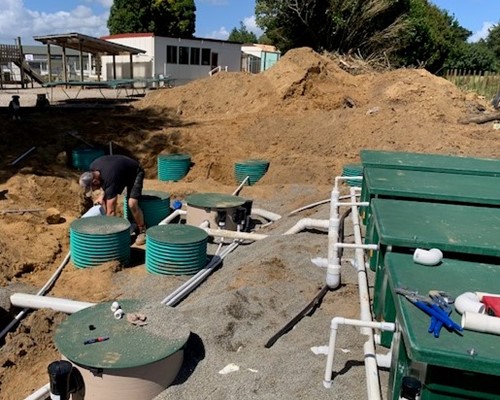 Schools
Schools are unique community environments housing dozens or hundreds of precious young residents during the day, then often remaining empty in the evenings and school holidays. 
Wastewater systems must not only perform consistently despite these variable loads; they must also fit safely within the school environment and be easy to expand as the school roll grows. 
In small schools, space is at a premium and sprawling septic systems and disposal fields come at the cost of playground space or sports fields. The AdvanTex® system offers the option of a very small footprint without sacrificing performance. 
AdvanTex treatment plants have hard wearing, lockable covers, which means there is no likelihood of damage to the plant or risk of contact with children. Even if irrigation fields are close to recreational areas, there is no health risk as a very low loading rate (e.g., 4mm/day) can be used and a high quality of effluent dosed to subsurface drip irrigation lines. 
We have installed the AdvanTex treatment plant and primary drainage system in as little as a week, which means a school's wastewater system can be replaced during the holidays.