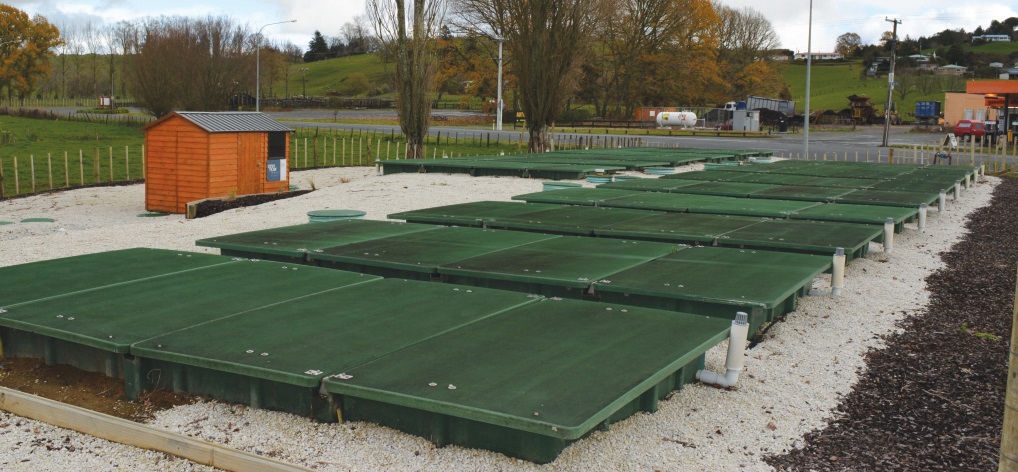 Piopio Community Upgrade
Located in rural New Zealand, the farming community of Piopio was in need of a wastewater treatment plant. In this area where run-off from dairy farms into streams and rivers can be
a cause for concern, failing septic tanks at individual homes and shops were also having an increasingly negative effect on the local environment.
Situated within the geographical boundaries of the Waitomo District, Piopio was identified by the District Council as meeting the requirements for wastewater funding through the Ministry of Health. Accordingly, the District began the process of searching for the most effective solution, ultimately selecting an Orenco® Effluent Sewer and AdvanTex® Treatment System.
After a thorough bidding process in which various treatment options — such as grinder pumps and conventional gravity sewer with pump stations — were also considered, the Council eventually chose an Orenco® Effluent Sewer and AdvanTex® Treatment System, due to their reputation for low operating and capital costs, as well as robust quality of treatment.
Costs included design and installation of effluent sewer, treatment plant, and rock outfall; supply and installation of 198 septic tanks for households and businesses, plus disposal of old
tanks.
Piopio and the surrounding countryside are rather hilly, which is why the township's Orenco Effluent Sewer is comprised of approximately 65% STEP (Septic Tank Effluent Pump) units and just 35% STEG (Septic Tank Effluent Gravity) units. Nevertheless, the small-diameter collection lines that feed into the AdvanTex Treatment System are well-suited for a variety of terrain, as they are buried just 76-91 cm deep (30"-36") deep and designed to follow the
contour of the land.
System Performance
Permit Limits
• 20 mg/L BOD5
• 30 mg/L TSS
• 30 mg/L TKN
• 10 mg/L NH3-N
• 15 mg/L TP
• 500 MPN/100 mL FC

Effluent Quality
• 6 mg/L BOD5
• 7 mg/L TSS
• 5 mg/L TKN
• 4 mg/L NH3-N
• 6-7 mg/L TP
• 5 cfu/100 mL FC
"Because the effluent would be discharged into a nearby river, we had to have guaranteed results, and that's what AdvanTex provides." - Kevin Higham, Innoflow.
Testimonials


Our company has been working with Innoflow Technologies for over 10 years in commercial and residential wastewater. Innoflow offer high quality, cost effective and low maintenance products. The team at Innoflow are experienced and knowledgeable and are my go to company for any onsite wastewater systems.
Scott Hansen
Hansen Drainage & Earthworks


Our drainage company has installed Innoflow's systems for 5+ years now. The team has been a pleasure to deal with, and nothing is a problem. They have the knowledge, and experience to achieve complete solutions for all clients. Innoflow systems are a high quality product which stand out from the rest. We look forward to helping them achieve more great results in our field.
Damon Taylor
TaylorMade Plumbing


I have been involved with Innoflow / Orenco systems since the mid 90's when on-site treatment systems first started to appear in NZ. Since then, I have installed all types of systems and have even been overseas to look at different types of technologies. Based on my nearly 30 years of experience, I believe the Advantex treatment system is as good as it gets. To back that up, I have just installed one at my own new build and wouldn't consider anything else. No other system/technology gives long term reliable performance, with minimal maintenance, low running costs and high-quality componentry that all together produces a very high level of treatment, while still being a good looking system visually once installed.
Sean Lynch
Clearflow Contracting


My practice specialises in wastewater treatment solutions for schools, marae, camping grounds and domestic dwellings. In my opinion the Advantex (USA) range of sewage treatment systems are the best designed and supported systems available in New Zealand. The design, construction and operation of the Advantex system process is superior to any other system process available and I have found that it can be relied upon to perform to the highest levels required by council and government regulations.
Dave Miller
Environmental Engineer