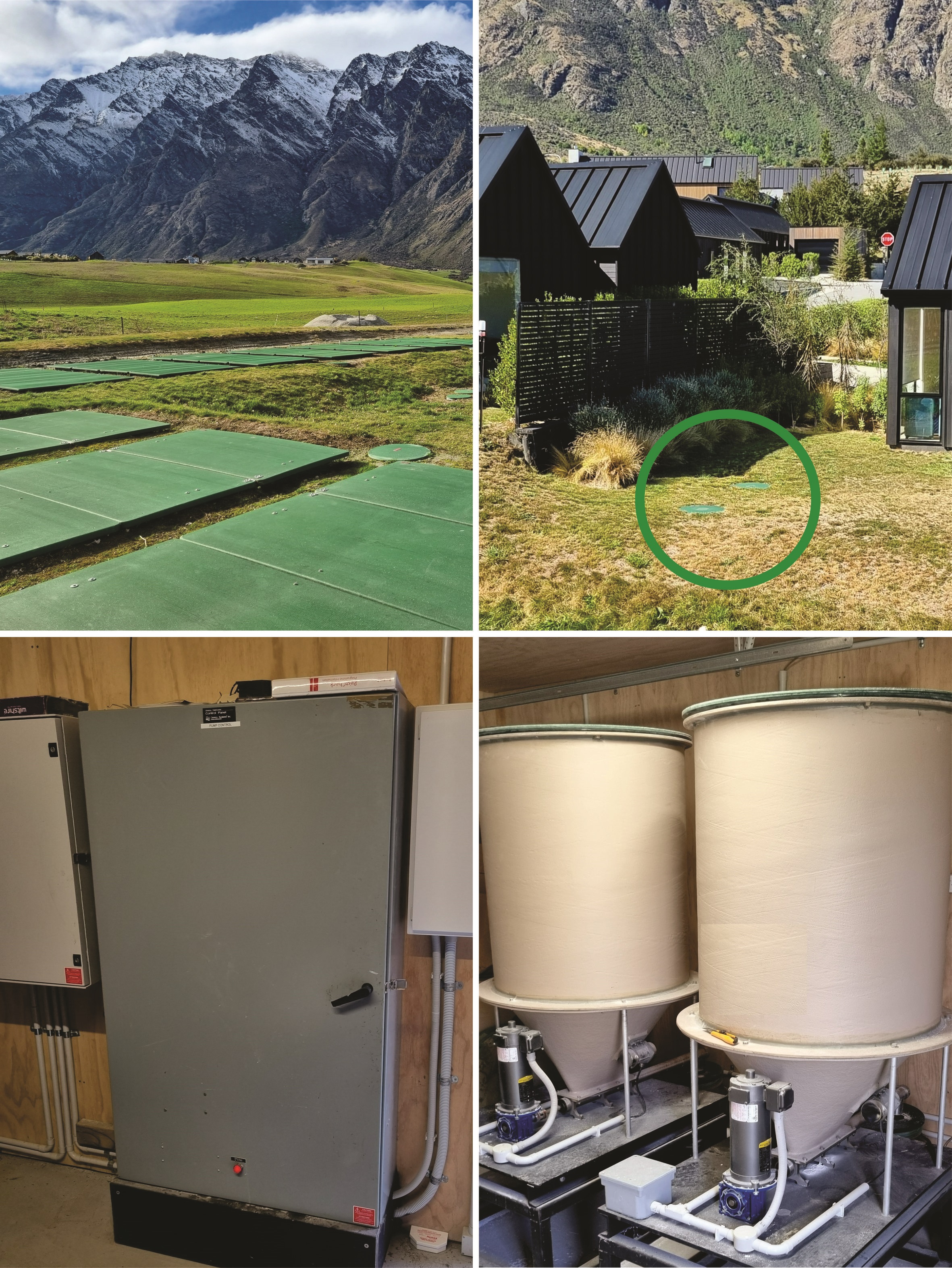 Jack's Point Queenstown
Iconic Queenstown subdivision Jack's Point has resource consent for 1400 lots, although 900 homes were proposed initially. The development is handily located to a municipal wastewater treatment plant, but a decentralised wastewater management system was chosen for capacity and cost benefits.
The Otago Regional Council adopted an effects-based approach to land treatment, requiring levels of post-development nutrient load to be less than levels measured pre-development. The authority granted a resource consent to discharge up to 1,374,000 litres a day to land. 
Innoflow demonstrated that their technology would meet strict nitrogen level requirements, which was backed up by their OSET trial data. Additionally, the liquid only sewer system meant the cost of primary treatment was deferred to the homeowners, risk of stormwater infiltration was significantly reduced, and maintenance costs would be much lower than a comparable gravity sewer.

The installed system comprises small diameter effluent sewer for wastewater collection, on-lot Step/Prelos tanks and the AdvanTex® Recirculating Textile Packed Bed Reactor for the treatment system. Innoflow also supplied and installed the land treatment system by way of subsurface drip irrigation.
System Performance
The wastewater treatment system produces high quality effluent with the following outputs: 
Biochemical Oxygen Demand (cBOD5) levels averaging 15mg/L
Total Suspended Solids (TSS) levels averaging 20mg/L
Total Nitrogen (TN) levels averaging 15mg/L (New Limit)
Total Phosphorus (TP) levels averaging 12mg/L
Escherichia-coli (E.coli) levels averaging 10,000 cfu/100mLs
Treated effluent is disposed of sustainably, and the low-profile, below-ground wastewater treatment plant design is barely noticeable on the landscape.
The whole of life cost for the entire system, along with the ability to easily expand the plant in the future as the development grows, meant the Innoflow solution made economic sense to the developer, as well as environmental sense. 
Put your subdivision on a more sustainable pathway with Innoflow's decentralised wastewater solution. 
Testimonials


Our company has been working with Innoflow Technologies for over 10 years in commercial and residential wastewater. Innoflow offer high quality, cost effective and low maintenance products. The team at Innoflow are experienced and knowledgeable and are my go to company for any onsite wastewater systems.
Scott Hansen
Hansen Drainage & Earthworks


Our drainage company has installed Innoflow's systems for 5+ years now. The team has been a pleasure to deal with, and nothing is a problem. They have the knowledge, and experience to achieve complete solutions for all clients. Innoflow systems are a high quality product which stand out from the rest. We look forward to helping them achieve more great results in our field.
Damon Taylor
TaylorMade Plumbing


I have been involved with Innoflow / Orenco systems since the mid 90's when on-site treatment systems first started to appear in NZ. Since then, I have installed all types of systems and have even been overseas to look at different types of technologies. Based on my nearly 30 years of experience, I believe the Advantex treatment system is as good as it gets. To back that up, I have just installed one at my own new build and wouldn't consider anything else. No other system/technology gives long term reliable performance, with minimal maintenance, low running costs and high-quality componentry that all together produces a very high level of treatment, while still being a good looking system visually once installed.
Sean Lynch
Clearflow Contracting


My practice specialises in wastewater treatment solutions for schools, marae, camping grounds and domestic dwellings. In my opinion the Advantex (USA) range of sewage treatment systems are the best designed and supported systems available in New Zealand. The design, construction and operation of the Advantex system process is superior to any other system process available and I have found that it can be relied upon to perform to the highest levels required by council and government regulations.
Dave Miller
Environmental Engineer